3CX Call Center Module
Increase Sales and Customer Service Levels with the 3CX Phone System Call Center Module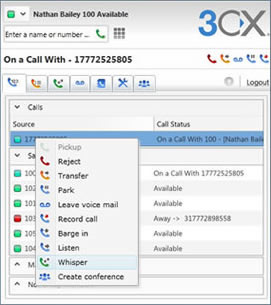 Enterprise Call Center Module Add-on for 3CX Phone System
With the 3CX Call Center Module, small and medium sized businesses (SMB) can manage phone communications more efficiently and deliver superior customer service.
Boost your business' customer service levels with the following call center features:
Real Time Agent & Queue Status and Statistics
Additional Advanced Queue Strategies
Agent Features
Detailed Call Center Reporting.
The 3CX Call Center Module is available as an add-on to any 3CX Phone System 10 installation, meaning no additional installation is required.

Key Features Included in the 3CX Call Center Module are:
Advanced Real time Queue & Agent Statistics
Supervisors and Management get access to advanced real time status information in the Queues page of 3CX MyPhone
You can monitor queue status and see which agents are logged on
Supervisors can see:
The number of callers in the queue
The number of answered/unanswered calls
The average and longest wait time
Time an agent logged in/out of the queue and more
Calls waiting longer then a specific period of time can be taken directly
Call Back Feature
The Call Back feature allows callers to hang up and retain their position in the queue. When an agent becomes available, the agent will be put through to the caller automatically
The Call Back option can be selected by the caller or suggested after waiting a configurable number of minutes in the queue
An email can be sent when a call back is requested. Customer satisfaction is improved with this feature, as your potential/existing customers do not need to wait on the phone to be served
Additional Queue Strategies
The 3CX Call Center Module also features a Round Robin Queue strategy and a Longest Waiting strategy which sends the call to the agent that takes the longest time to answer on average
Least Talk Time and Fewest Answered strategies are also available, as well as Hunt by Threes Random and Hunt by Threes Prioritized
These additional strategies allow a business to more accurately tailor how they wish to serve their customers or divide the calls amongst the employees
SLA Alerts
The SLA Alerts feature allows supervisors and managers to be notified when callers have to wait beyond a configurable amount of time
In addition the event can be logged, so that you can do SLA reporting to customers. Customer satisfaction can be ensured with the SLA alert feature, as staff can act immediately if a given customer service level is not met
Listen In, Listen In & Whisper and Barge In
The 3CX Call Center Module also features Listen In, Listen In & Whisper and Barge In functions. These great features allow supervisors to monitor agent responses
Customer service supervisors can listen into an agents call with the Listen In feature. If the agent isn't too sure on how to respond to the customers' request, the Listen In & Whisper feature allows the supervisor to provide feedback to the agent only; allowing him/her to take the best course of action with regards the customer's request. The Barge In feature allows supervisors to join calls directly
Wrap up Time
Wrap up time gives agents a configurable amount of time to enter notes in the customer record or follow up tasks before they have to take another call
Call Center Features Coming Soon
3CX will be releasing a free service pack which will include:
Wall Board
The ability to log agents in and out of individual queues
Extensive reporting
Add the 3CX Call Center Module to Your 3CX Phone System Installation
The 3CX Call Center Module is a license key only upgrade to 3CX Phone System. All you need to do is purchase the upgrade and reactivate your 3CX Phone System. Purchase the 3CX Call Center Module today! The 3CX Call Center Module for the Mini Edition of 3CX Phone System costs only $745.
To see how the Call Center Module can boost your customer service, take a look at the 3CX Call Center Module Video here.
For more information on the 3CX Call Center Module, give us a call today.