Credit Card Processing
The perfect solution for you
Phintec LLC takes your data security seriously. That is why we have collaborated with top credit card payment processors to offer you simple and secure end-to-end solutions for payment. By adopting one of our revolutionary credit card processing solutions, you can save time and money, reduce processing errors and get a better view of your business.

Our solutions will free you from the concerns of any point-of-sales (POS) related security breach, allowing you to stay focused on your core business.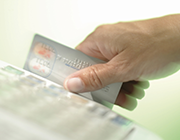 Credit card processing services from Phintec are:
Accessible - systems that are easy to set up and manage
Customized - to meet the individual requirements of your business
Integrated - into your system, providing you with more financial visibility and control
Affordable - technology that increases efficiency and improves your bottom line
Secure your payments with solutions from:
Mercury Payment Systems - Mercury Payment Systems offers a broad and expanding range of payment processing solutions, from integrated POS and cash register systems to web-based processing systems. Mercury's innovative E2E and MToken™ technology to RMS System helps retailers comply with PCI card data security standards.
Axia - The Axia Gateway is fully integrated with Lightspeed. Lightspeed is retail POS system that moves seamlessly from the front-counter to the Internet. By offering enhanced inventory management systems and simplified reporting tools, Axia can help you improve your service efficiency and help you make better business decisions.
Merchant Warehouse - With a reputation for quality customer service, Merchant Warehouse is a leader in the payment solutions industry. They provide affordable, flexible and highly secure credit card processing solutions for Lightspeed - a top retail POS interface offering fast front-counter sales and a fully integrated web store for online selling.
Every business wants to get paid - and get paid fast. Credit card processing services from Phintec are not only quick and easy to implement, but they can help you reduce costs, improve efficiency and maximize your bottom line.
Get the most from every transaction.