Synology DiskStation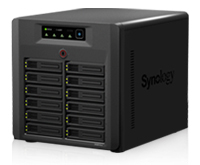 Synology DiskStation is the perfect server replacement tool that will allow you to centralize storage and backups while enabling powerful file sharing and easy remote access.
Are you looking for a robust way to share important files?
At Phintec, we know that business is always evolving, and in order to keep up you and your employees need access to an ever growing number of files and systems. In order to do this, you need powerful servers and storage solutions. There's only one problem: Traditional servers are bulky and expensive to maintain. Phintec has the solution for you: Synology DiskStation.

Synology DiskStation is a range of Network Attached Storage (NAS) devices that offer all the features of a server, at a fraction of the size and cost.
Synology DiskStation solutions offer:
Full server functionality - DiskStations are full featured offering users the ability to share files, backup data and even access their systems remotely from any platform at a fraction of the cost of a normal server
Easy administration - Every DiskStation comes with the DiskStation Manager which makes it easy to manage even the most minute of details
Scalable storage - Each DiskStation comes with extra space to fit more hard drives. All you have to do is plug in a new hard drive and the extra space will be immediately available
High availability - Using robust management systems, DiskStations offer industry leading and reliable up-time
If you are looking for a high-performance, full featured server replacement that is not only easy to manage but is also affordable, look no further than a DiskStation solution from Phintec.